Freebies. You know you need to create a freebie for your blog, but what does that actually look like?
Does "blog freebie" or "freebie opt-in" sound like another blogging-mumbo-jumbo-phrase that's on your to-do list to figure out?!
How about this: Give me the next 10 minutes and you'll walk away with a clear strategy on how to create a freebie for your blog that converts into new subscribers. Deal? Deal.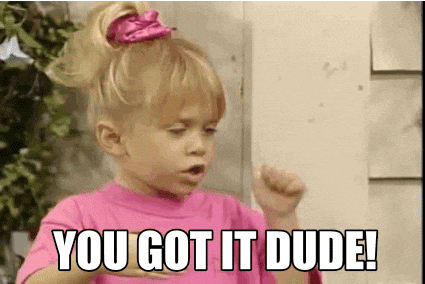 What's a Freebie?
A freebie is a PDF, printable, checklist, worksheet, template, email challenge, you-name-it, that someone gets fo' free in exchange their email address (AKA subscribing to your email list).
An opt-in just also a freebie, or whatever you're using to get someone to subscribe (opt IN!) to your email list.
What's a Good Freebie?
Your freebie should be something that your audience needs. I listened to an extremely helpful podcast episode from Simple Pin Media where Kate said your freebie should be so good that people can't believe you're giving it away for free. If it helps, the value should be around $10. Here are a few different types of freebies to get the juices flowing…
If you're struggling to think of a freebie for your blog, search your niche on Pinterest to get ideas – Blog freebie, or Home Decor Freebie, or Healthy Eating Freebie.
Once you have your freebie nailed down, there's a little strategy behind creating getting all the juicy data out of that opt-in that you can.
Let me show you the strategy I use for my free Pinterest Roadmap, which is a downloadable PDF (and available in my freebie library for subscribers! #shamelessplug 😉).
Step 1: Create a New Email List/Group
Disclaimer: I use MailerLite to manage my email marketing, which is free up to 1,000 subscribers! It's definitely been my favorite free email marketing platform! Despite my high praise, this post is in no way affiliated with MailerLite.
It's helpful to keep those who have signed up for the freebie on their own list so you can target them later based on their interests.
For example, if I sell a Pinterest course in the future, I could send a couple extra, targeted, emails to those who have opted-in to my Pinterest Roadmap. If they opted in to that freebie, then they're clearly looking for help with Pinterest and may be interested in my course!
So, in MailerLite, I created a new "Subscriber Group" called, "Pinterest Roadmap Freebie." This is separate from my general email list of all my subscribers.
Step 2: Create a Pop-Up or Form for the Freebie Opt-In
Next, I recommend creating an embedded form that you can place within your blog post, like this…
…as well as a pop-up that you can use on relevant pages. Here's what I mean…
I've written several blog posts about Pinterest. If someone's reading that post, they're ready to learn more about Pinterest, so they're more likely to opt in to my Pinterest Roadmap pop-up than my general site-wide pop-up.
In MailerLite, I adjusted the settings (here's a how-to guide) so only the Pinterest pop-up displays. Hello, conversions!
Pop-ups are great when they're done in a tasteful way. I recommend…
Waiting for at least 15 seconds before the pop-up displays. Give them a chance to read your content and "get to know you" before asking them to subscribe.
Waiting until they've scrolled down through at least 50% of the page.
These are all settings you can choose in MailerLite. Also, here's how to create the pop-up from A to Z.
Step 3: Put the Freebie Strategy Together with Automation
Now that you have the list and the form, we need to put it all together. Mailerlite's automation is super simple using the Automation tab.
Simply create a new workflow so that when someone signs up for your new list, they're sent an email with a link to the freebie.
One of the easiest ways to link your freebie in your email is by uploading the file to your Media Library in WordPress. In the Media Library, copy the URL of the file and link a button in your email to that URL.
I like to use a bit.ly vanity link for these URLs so I can see how many times it's been clicked/downloaded. I can use it in my marketing after awhile and say it's been downloaded "500 times!" or whatever. 🙂
The Automation should look like this:
Subscriber is added to Freebie List >> Subscriber is Copied to your General Mailing List >> Subscriber is sent Freebie Email.
Step 4: Nurture Your Email List
The process thus far is sufficient to get new subscribers for your blog; however, to create a more engaged list that's likely to open and click your future emails, we can take it one step further. See my full post here on creating a welcome email sequence for your blog!
After a subscriber signs up, create a sequence of 3 – 4 weekly emails that provide helpful information related to the freebie. For example…
Week 1: Sign-Up, "Pinterest Roadmap" freebie sent
Week 2: Tips for staying consistent with Pinterest
Week 3: How I batch Pinterest pins to save time
Week 4: Tips for designing beautiful Pinterest pins
After the sequence finishes, then have the automation add them to your general list where they'll start receiving your regular emails. This can all be done in MailerLite's Automation tab. It's a good idea to wait to add them to your general list until the end of the sequence so they aren't being spammed with too many emails.
Keep Track of Your Freebies & Pop-Ups!
Don't get all your new freebies and pop-ups mixed up! Create a simple spreadsheet where you can…
Keep track of your freebie URLs all in one place
Track which pages your pop-ups display to ensure your pop-ups don't cause overwhelm for readers